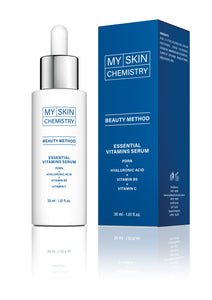 Essential Vitamin Serum
DISCOLORATION CONTROL
Regular price $125.00 Sale
Essential Vitamin Serum made with Vitamin B5 and vitamin C with soothing and regenerating properties.
How to use: Apply a few drops on the skin and massage. 
SKIN TYPES: Normal, Oily, Combination.
SKIN CONCERN: Discoloration, Acne, Aging.
FEATURES:
Improves the appearance of discoloration, fine lines, and uneven skin tone.
BENEFITS:

Provides advanced environmental protection by neutralizing damaging free radicals
Improves the appearance of discoloration and overall skin tone.
Ideal for normal, oily, and combination skin type.
Vitamin B 5 have moisturizing, rejuvenating and soothing properties. It helps to reinforce the skin barrier, promoting hydration.
It has an antioxidant and antiaging action and helps to illuminate and even out the complexion.